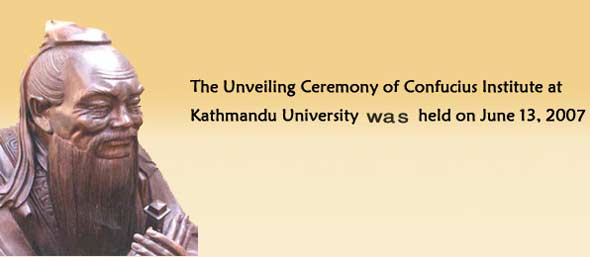 Vision
"To develop Confucius Institute at Kathmandu University into one of the best bases for promotion of Chinese Culture and Language".
Mission
"To offer qualified and applicable Chinese Courses upon the learners' request".
Introduction
The Confucius Institute at Kathmandu University is a high-level Chinese Language and Culture institution, cooperatively established by Hebei University of Economics and Business and Kathmandu University with the ratification of Office of Chinese Language Council International. It is also the first Confucius Institute in Nepal.

With huge support from the Office of Chinese Language Council International and Hebei University of Economics and Business, the Confucius Institute at Kathmandu University will invite in succession the professors and scholars from Hebei University of Economics and Business, according to the real situation in Nepal, to compose suitable teaching programs, provide extensive Chinese Language and Culture courses to high schools and universities, social communities and enterprises and individuals, and to assist in enhancing the overall development of Chinese Language, Chinese culture Chinese study as well as Business Chinese in Nepal and South Asia.
CIKU has 4 Confucius Classrooms and 9 teaching points, 2129 registered participants, offering different levels of curriculum such as undergraduate Chinese compulsory and elective courses, postgraduate Chinese elective courses, adult Chinese courses, local teacher Chinese language training, elementary school Chinese courses etc., and business, tourists, media reporters Chinese language classes. Confucius Institute is Chinese test centers for Chinese Proficiency Test (HSK), HSK Speaking Test (HSKK), and Youth Chinese Test (YCT). The number of participants in the HSK test in 2013 is 307. Confucius Institute compiled local materials such as "Practical Chinese Manual", " Tour Guide Chinese in Nepal", "Nepal Practical Business Chinese", etc.
While committing to teaching Chinese language, Confucius Institute actively carries out cultural programs such as Chinese Cultural Festival, performances, Chinese textbooks exhibitions, cultural lectures, seminars, and various Chinese games. Nepal Minister of Education, Chinese Ambassador to Nepal, Nepali Friendship Association chairmen participate CIKU various cultural activities. In 2010 Confucius Institute successfully organized the "South Asia - China Cultural Forum", in 2012 Chinese State Councilor Chen Zhili, Director of Hanban Xu Lin, in 2013 China Vice Minister of Education Hao Ping personally inspected and guide the work of CIKU.
In 2013, 20 participants receive scholarship from Confucius Institute Headquarters to study in China, 18 students participate in Summer Camp to China, 15 students participate in Winter Camp to China, 1 Principal Delegation of 10 members goes to China. President of Hebei University of Economic and Business goes to Nepal to participate in activities of CIKU, Vice-Chancellor of Kathmandu University goes to China for CIKU board meeting and further co-operation, Dean of management school, Dean of arts school of Hebei University of Economics and Business go to Kathmandu University to attend lectures and seminars. Through Confucius Institute, cooperation and exchange mechanism between China and Nepal partners becomes more smoothly.
Confucius Institute has 17 Chinese teachers or volunteer teachers, a dedicated 300 square meters office, classrooms, library, computer room, cultural experiences chamber, website and other hardware facilities. With its high-quality teaching, various academic and cultural activities, CIKU has been attracting more and more Nepalese to learn Chinese language. It has won the broad recognition, popularity and praise from Nepal society.