A Visit Back to Haymalayan Whitehouse Int'l College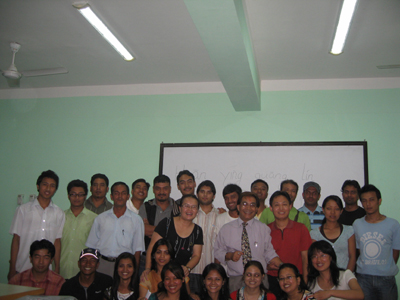 (CI at KU) Invited by the Management of Haymalayan Whitehouse Int'l College, teachers from Confucius Institute at Kathmandu Unviersity paid a visit back.
Admiring the proficiency of students from CI at KU in Speaking and Listening, students from Haymalayan Whitehouse Int'l College observed a class at CI at KU on July 2nd, 2008. Greatly inspired by the students' performance and the teachers' guidance, students from Hamalayan Whitehouse Int'l College invited with great sincerity teachers and students from CI at KU to share our experiences in both learning and teaching Chinese.
Students from both sides displayed their capability in both speaking and singing. The teachers showed them how to study Chinese in an easy but effective way instead of being frightened by they difficulties they met in the course of language acquisition. The atomsphere was friendly and the students were excited in exchanging their opinions concerning Chinese Language and Culture.
After that, students and Chinese Teacher showed us the President's office, the staff's office, the computer room and especially thebeautifully decroated Auditorium. It is a fruitful visit which aroused the students' curiosity in Chinese learning and enhanced the friendship between the two universities.