On December 7 and 8,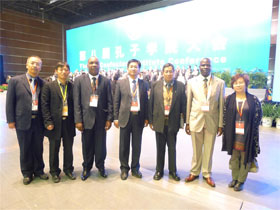 CIKU participated in the Eighth Confucius Institute Conference in Beijing national convention center. The theme is "Review Past and Prospect Future ", with more than 400 Confucius Institute principals, deans of the Confucius Institute and the Chinese contractors gathering here.
Miss Liu Yandong, CPC Central Committee, vice premier of the State Council, the President of the Council of the Confucius Institute Headquarters, gave the speech "Working together to Promote the Development of Confucius Institute and Co-write a New chapter in Sino-foreign Cultural Exchanges". The conference summed up the past, looked to the future, held an excellent case forums and Presidents Forum and discussed on Chinese language teaching, characteristics brand cultural activities and implementation of the "New Sinology Confucius Plan". At the closing ceremony, Mr. Mo Yan gave the wonderful speech "Confucius in My Imagination".
CIKU learned a valuable spiritual and experience, which has important guiding significance for the future work.