November 21, CIKU held the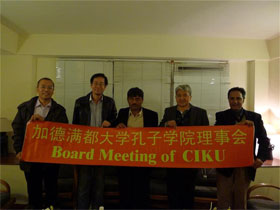 20th Board Meeting in headquarter of KU. Director of Chinese embassy cultural section Mr. Zhang Bing and Vice chancellor of KU took part in the conference.
In the conference, Chinese director of CIKU Mr. Wang Shengli made a report on the 2013-2015 development plans which was adopted. The meeting members of the Council were adjusted. Registrar of KU Prof. Dr. Bhola Thapa, was elected to be the Nepali Director of CIKU. The conference also arranged the issues of Nepali Director's visiting China and the establishment of Chinese Study Center in KU. Under the leadership of the new Council, CIKU will expand the scale of teaching, improve teaching level, enhance the influence and become Nepal's most authoritative Chinese language teaching institution.