Recently, CIKU's Chinese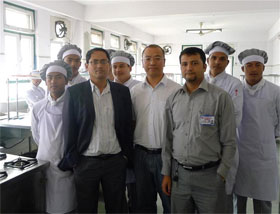 Director Mr. Wang Shengli met with the principals of the Confucius Classrooms from LRT, Pokhara and Tourism and Hotel Management College.
Director Wang Shengli introduced CIKU's situation to the principals of LRI Confucius Classroom, answered their questions, and gave them guidance. Director Wang Shengli's visiting to Tourism and Hotel Management College was warmly welcomed by its teachers and students. He introduced CIKU's situation and visited Chinese teaching classroom, library and Student Internship Center.
The Principal of Confucius Classroom from Pokhara reported its situation of Chinese language teaching and Chinese culture activities.
The meetings strengthen the close contact with Confucius Classrooms and supports of CIKU.