September 11, cooperating with KCM, CIKU opened Chinese Credit course. CIKU's Chinese courses have been further increased.
Students in KCM have been passionate in learning Chinese. They generally believe that mastering Chinese is very useful for their working on business and trade and provide them with more development opportunities. There are about 40 students joining Chinese courses with three times a week. CIKU appointed Mr. Wang Huiliang, an experienced volunteer teacher, to teach Chinese courses in KCM.
With more and more profound understandings of the importance of Chinese language, more and more Nepalese institutions begin to take the initiative to seek cooperation with CIKU. And CIKU has been positively broadening and deepening the cooperation with many Nepalese communities, making efforts to provide the best learning environment and resources for every Chinese learner.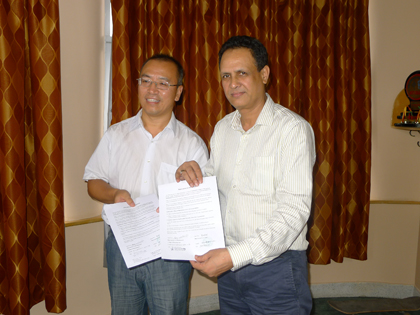 Related reports of KCM website:
http://www.kcm.edu.np/index.php?option=com_content&view=article&id=252:chinese-language-class&catid=1:latest-news&Itemid=123