Beijing Olympic Flame arrives in Vietnam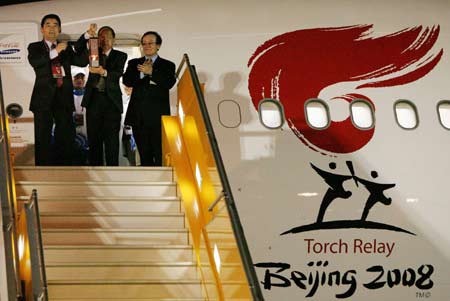 HO CHI MINH CITY, Vietnam, April 28 (Xinhua) -- The plane carrying the Beijing Olympic flame landed Monday night at Tan Son Nhat International Airport in Ho Chi Minh City, Vietnam, for Tuesday's torch relay through the heart of the city.
This is the 19th leg of the Beijing Olympic torch relay around the world, and also the first time that Vietnam will host an Olympic torch relay.
The special chartered plane touched down at the airport at 23:05 local time (1505 GMT) from Pyongyang, capital of the Democratic People's Republic of Korea, after a six hour flight.
Hoang Vinh Giang, vice chairman and general secretary of the Vietnam Olympic Committee and Chinese ambassador to Vietnam Hu Qianwen walked up to the plane to welcome the flame.
Then, Li Binghua, executive vice president of the Beijing Organizing Committee of Olympic Games (BOCOG), who carried the lantern of the flame, walked off the plane accompanied by Giang and Hu.
Li and the flame received a warm welcome by the Chinese embassy staff and representatives of Chinese businesses and students in Vietnam.
Giang told Xinhua at the airport that the Olympic torch relay is the most important event in the history of Vietnam's sports, and top leaders of the country had ordered relative departments to prepare well for the torch relay to ensure complete success.
"To date, preparations are going on smoothly in general, and I believe the torch relay will be a great success," he said.
On Tuesday afternoon, the Olympic torch relay will start from an opera house in the city center and conclude at a stadium near the Tan Son Nhat International Airport, covering a route of 10-13 kilometers.
This is also the last leg of the Olympic flame's global journey outside China. After completing the Ho Chi Minh City torch relay, the flame will head to Hong Kong