-->>Second Conference of Confucius Institute Held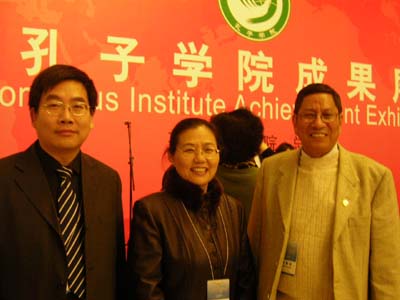 (December 6, 2007, CI at KU)
The Second Conference of Confucius Institute was held on December 11th to 12th in Beijing. By then all Presidents of foreign universities and Directors of Confucius Institute will be at presence. The Registrar, Prof. Tuladhar, and Dr. Sagar Sharma from Kathmandu University will attend the conference.
The theme of the conference is concerning the operation and development of Confucius Institute. Mrs. Chen Zhili, State Councilor and Chairman of the Board of Headquarters of Confucius Institute, will cut the ribbon of the Exhibition of Confucius Institutes' Achievements, deliver an address and declare the opening of Confucius Institute Online; Minister of Education and Vice Chairman of the Board, Mr. Zhouji, will summarize the conference. The attendants of the conference will exchange their experiences in establishment of Confucius Institute, discuss the relationships and function between the establishment of Confucius Institute and sustainable development of the foreign universities, the contribution that Confucius Institutes will do to communities, the quality guarantee and brand building, the unity and flexibility of running Confucius Institute, the marketing and sustainable development, the horizontal and vertical communication and etc. And they will still discuss and revise the relevant documents of Confucius Institute and summarize the modes to run Confucius Institute, and study and solve the currently existed difficulties and problems. During the conference, the Exhibition of Chinese Resources and the Exhibition of Confucius Institutes' Achievements will be held, displaying the live teaching, courses, and the classroom activities, textbooks, periodicals, materials for exchange, and Annual Log of Confucius Institutes in 2007, Materials for Exchange at the Second Conference of Confucius Institutes, and Most Popular Courses and Activities will be compiled.