Poems Regarding Traditional Festivals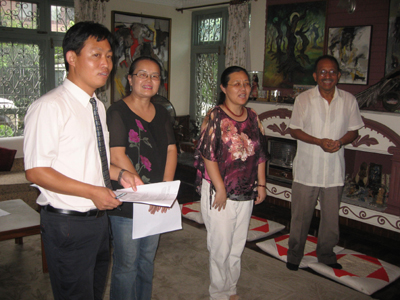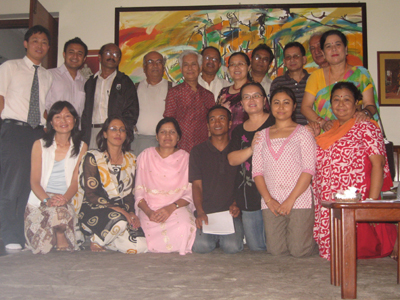 (CI at KU,July 16th,2008) Teachers from Confucius Institute gave Nepali Poets an unusual Lecture titled "Poems Regarding Traditional Chinese Festivals".More than 20 persons including Mrs. Chen Yui, Director of Cultural Division from Chinese Embassy, Mr. Nabin Chitrakal, Chairman of Poets' Association, Mr. Dwarika Shrestha, a renowned Poet in Nepal attended the lecture.
Mr. Shang Liwei and Mrs. Zhang Xiying introduced in English such traditional Chinese festivals as: Spring Festival, Lantern Festival, Pure Brightness, Dragon Boat's Day, Qixi(it is said to be Chinese Valentine's Day on July 7th, lunar calendar), Chongyang (September 9th, lunar calendar), Mid-Autumn Festival and Eve of Spring Festival and etc. They conveyed via Poems the Chinese traditions upon those festivals. The poets showed their great curiosities by taking notes, asking questions, and one of the ladies even imitated Zuoyi(make a bow with hands folded in front), which made a very friendly and hospitable atomsphere.
Afterwards, Mrs. Chen and Mr. Nabin Chitrakal made their addresses in turn,singing highly of the event and expressing to make more opportunities for Nepali Poets and Chinese Teachers to communicate so that we will know more about the two civilizations.
Being satisfactory and enjoyable of this event, Mr. Nabin Chitrakal and Mr.Shang reached an agreement to hold another gathering to share both Chinese and Nepalese Songs concerning the seasons.