(CI at KU, January 22, 2008)
Chinese Teachers from CI at KU presided over the Opening Ceremony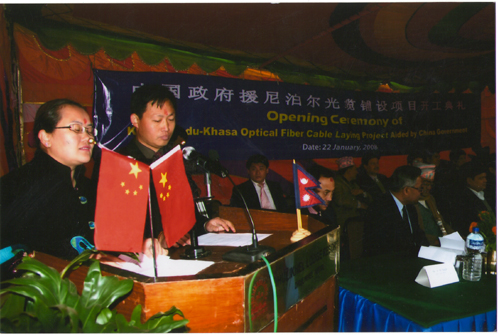 On January 22nd, 2008, Shang Liwei and Zhang Xiying, associate professors from Confucius Institute at Kathmandu University presided over the Opening Ceremony of Optical Fiber Cable Laying Project assisted by Chinese Government and undertaken by China Telecommunication Construction Corporation.
More than 100 persons like His Excellency, Mr. Zheng Xianglin, Chinese ambassador to Nepal, Business Counsellor, Mr. Bai Dongmin, First Secretary, Mr. Zhang Jun from Chinese Embassy, Chinese Manager, Mr. Sun Yuwen, Minister and Secretary of Ministry of Information and Communication, Managering Diretor and Vice Managering Director etc attended the opening ceremony.
As an institute of promoting language and culture, CI at KU actively participated and supported the activities of Chinese-funded companies. The close relationship with Chinese-funded companies is not only part of routine work, but is also contributable to the popularization of Confucius Institute and establishing an authoritative position of Confucius Institute in Kathmandu, and to the promotion of Chinese Language and Culture.
Currently, teachers from Confucius Institute have already cooperated actively with Chinese-funded companies. They recommended excellent students as Chinese interpreters for these companies. The students work as M.C or do other jobs. The Chinese-funded companies expressed that they would support Confucius Institute in the activities in promoting Chinese Language and Culture. This is a trial in the cooperation with Chinese-funded Companies, and we will make persistent efforts to do this.