Olympic Chinese Class Started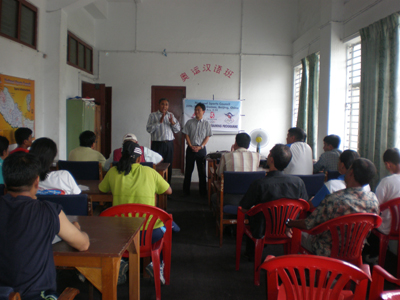 (CIatKU, July 3rd,2008) Olympic Chinese class started in Nepal National Stadium with the presence 25 students including the athletes, coaches, officials who are going to attend 2008 Olympic Games in Beijing on August 8, 2008. Vice Prisent, Mr. Sita Ram Maskey declares the starting of the class.
All the participants showed their great curiosity and interest in Chinese Learning. They said that when they go to Beijing, they can communicate with their Chinese friends in Chinese, and when they win medals, they will express their excitement in Chinese. This is what the Chinese teachers from Confucius Institute at Kathmandu University can do within their reach in support of Beijing Olympic Games.
Chinese Ambassador in Nepal, His Excellency, Mr. Zheng Xianglin affirmed the teachers' efforts in Olympic Chinese Class offered free to Nepalese Athletes, coaches and officials.