Children Enjoyed their Day in Laughters.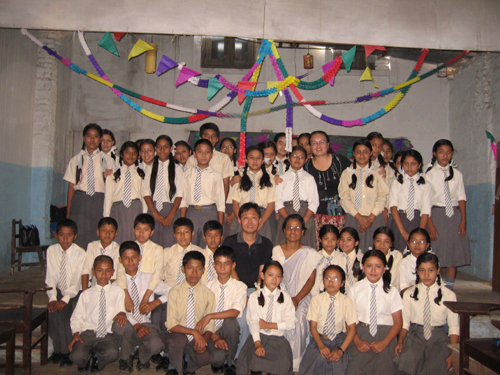 (CIKU, June 1st) Today, two teachers from Confucius Institute held jointly with a community school a cultural program entitled " Hold hands with Fuwas" to celebrate the Children's Day.
The event took place at National Children School, more than 300 persons among President, Mrs. Rita Shrestha, teachers and students from that school participated in this unusual cultural activity that they had never celebrated before.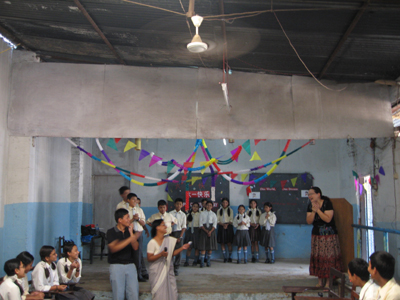 Chinese Director, Mr. Shang Liwei wished the Children a happy Children's Day, and then introduced the China's Preparation for Olympic Games and especially the Fuwas to the students, who are very interested in the cultural activity. They all wish in advance that Olympic Games will be held successfully in China.
We taught skillfully those present within 10 minutes Chinsese sentences like: I love Nepal, I love dad, I love mum, and etc. The children's lovely voices filled the hall with deep Chinese atomsphere.
Chinese teachers sang a children's song: Wahaha to the children and then we sang together "If u are happy, clap your hands", afterwards, we played a typical Chinese children's game: passing the handkerchief. The Nepalese Children sang their national Anthem and other Nepali songs.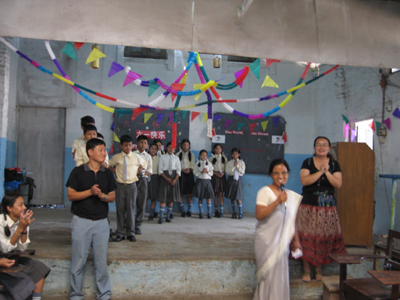 This activity turned out to be a great success. President, Mrs. Rita Shrestha expressed that her students and her have been holding a deep and friendly feeling towards Chinese and China. She hopes that we should have more activities like this to introduce Chinese Culture to her students.
The vision of Confucius Institute is "To develop Confucius Institute at Kathmandu University into one of the best bases for promotion of Chinese Culture and Language",while the mission is "To offer qualified and applicable Chinese Courses upon the learners' request".We always stick to this principle and have tried our best to serve the community. We introduced Chinese culture and language and the friendship between two nations to local citizens. With our efforts, the students and their parents as well know more about China and are more friendly towards China, which laid a solid foundation for the further development of Confucius Institute. We are confident to develop Confucius Institute at Kathmandu University into the best base to promote Chinese Culture and Language in Nepal.