Classroom in the Kitchen
(CIatKU, May 2) Confucius Institute at Kamandu University carried out series of afterclass activities. Moving classroom into the Kitchen is one of these activities.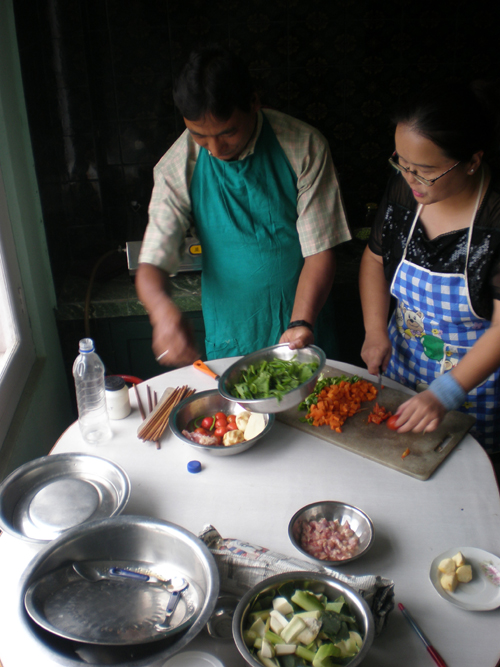 As a complementary part of classroom teaching activity, we held twice "Moving Classroom into the Kitchen" on April 13th and May 2nd, teaching the Nepali students how to cook Chinese food and helping them to know about Chinese food in a happy and lively ambience, which stimulates the students' strong interest in learning Chinese Language and Culture.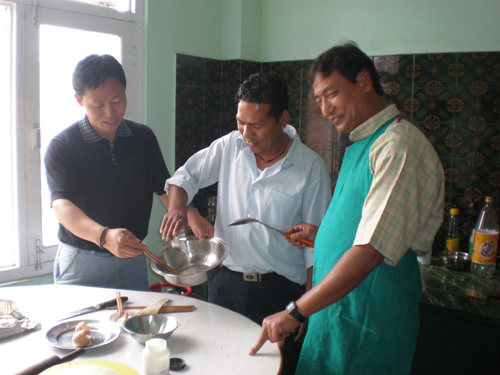 Chinese Teachers directed the students to cook several traditional Chinese Dishes like Scrambled Eggs with Tomatoes, Sour and Spicy Potato, Sliced Chicken with Beans, Pepper and Carrot, Boiled Fish and etc, we made the traditional Chinese Pancake. The students showed their great interest in cooking Chinese Food. They washed and then cutthe vegetables, and took notes about the every process of cooking. The process of cooking Sliced Chicken with Beans, Pepper and Carrot is complicated, they asked again and again and took notes about the materials needed and cooking process.
The students became greatly intersted in learning to use chopsticks and they practised repeatedly. When one of them succeeded in picking up one bean with the chopsticks, he showed off to his peers. They said they liked the teaching in this way, in which they did not only learn Chinese, but also have a direct knowledge of China. They said that their cooking of Chinese Food can help them to be close to their guests, since they are tour guides.
Confucius Institute will have series of activities like this, and this is just a beginning.