Students from CIKU attended HSK Exam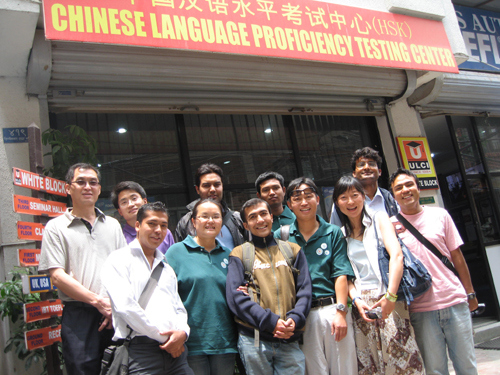 (CIKU, May 18th) On May 18th Chinese Language Proficiency Exam was held in Kathmandu, Nepal. 11 students had the exam in two levels, 6 of whom are from Confucius Institute at Kathmandu University.
Receiving Notice from Office of Chinese Language Council International, Staff from CIKU encouraged the students to attend. All students from Intermediate Chinese Class registered in the exam.To help the students prepare and build up their confidence, CIKU offered a Special Class for Preparation for HSK, providing them with Simulated Tests and Guidance.
Chinese Director, Mr. Shang Liwei appeared in the classroom in the early morning, which excited the students. He encouraged the students to be calm and try their best in the exam. The students were very thankful for the sincere concerns from CIKU and expressed that they would achieve a better score in the exam. When the students stepped out of the exam room at 11:30 a.m, the teachers from Confucius Instite were waiting there. They were very happy, and thought that they had done their best.
HSK is not only an exam of students' ability but also an encouragement to the teachers, which urged us to work harder and offer better service to the society.