Beijing Olympic torch relay concludes in HK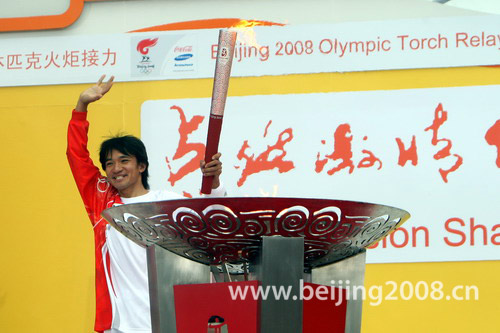 HONG KONG, May 2 (Xinhua) -- The Beijing Olympic torch relay in Hong Kong concluded at 16:56 local time on Friday as Wong Kam Po, a world champion cyclist, lit the cauldron at the Golden Bauhinia Square on the southern coast of the Victorian Harbor.
As Wong, also the last torch bearer, ran into Golden Bauhinia Square, he was greeted by hundreds of people waving red flags and chanting support for Beijing Olympics.
"The torch relay in Hong Kong has successfully completed, but the Olympic spirit of friendship, peace and harmony will pass on forever," said Timothy Tsun-Ting Fok, president of Sports Federation & Olympic Committee of Hong Kong, said at the closing ceremony.
"We expect a successful Beijing Olympic Games and a good performance of Chinese athletes including those from Hong Kong," said Fok, also the second from last torchbearer.
The 20th leg of the Beijing Olympic torch relay started from the Hong Kong Cultural Center on the northern coast the Victorian Harbor at 10:28 am local time on Friday.
The passion during the first relay in Chinese territory was drastically lit up. Cheers could be heard all through the city as large crowds lined the route despite spells of drizzle. Flags, banners, placards of good-will were far and near.
One hundred and twenty torchbearers covered a 26-km route, passing by such landmarks as Tsing Ma Bridge, Sha Tin racecourse and the Avenue of Stars before the torch was ferried across the Victoria Harbor onto the Hong Kong Island.
Among the 120 torchbearers, there are top athletes, celebrities, officials, business tycoons, students and teachers.
Horses, dragon boats and a sightseeing ship were used to carry the Olympic flame during the torch relay