Experts in Classroom
(CIKU, May 18) Experts in Business gave an interactive lesson in Business Chinese Class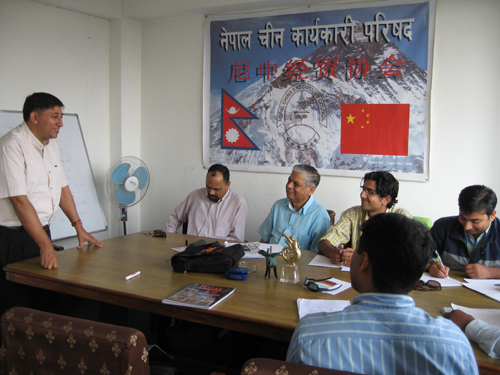 On May 16th, Mr. Anoop Ranjan Bhattarai, the President of Nepal and China Executives Council was at present at the Business Chinese Class to discuss on the spot with Nepali Businessmen issues concerning doing business with Chinese businessmen. Mr. Bhattarai, an expert engaging in economic and trading activities, has been promoting the relationship between Nepal and China. The President's presence at the class greatly encouraged the students, and supported Confucius Institute.
In the class, the President listened attentatively to the teacher's lecture, and told the students the great importance of learning Chinese with his own experience, and encouraged the students to go on Chinese learning and make some efforts to further improve the economic and trading relationship between Nepal and China. The students expressed that they were greatly appreciated of the teacher's teaching method and they were very interested in Chinese learning. They said Chinese is of great help to their work and builds up their confidence in cooperation with Chinese partners.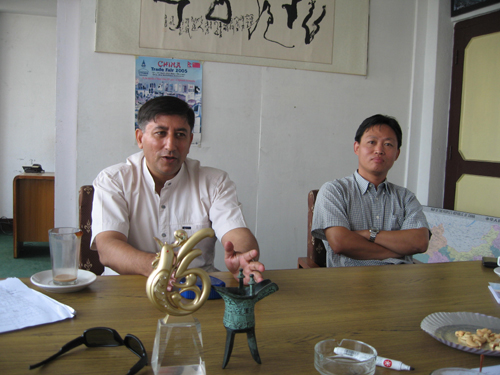 Mr. Bhattarai is not the first expert who went into Business Chinese class. During the "Nepal and China Trade Fair" held on April 25th-28th, Vice Director of Trade Promotion Committee of Sichuan Province also paid a visit to our class and introduced some business opportunities to our students.
Confucius Institute at Kathmandu University sticks to the Principle of Offering Classes to meet the students' requirements, which turns out to be practical and effective and is appricated by the students.