Dragon Boat's Day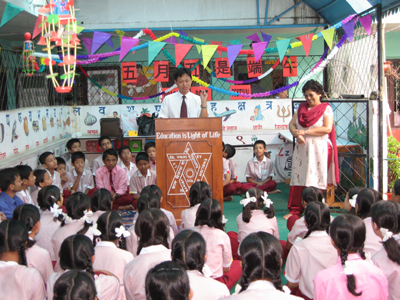 (CIKU,June 8,2008) Today is the traditional Chinese Festival, Dragon Boat's Day. Teachers from Confucius Institute came early to BAL VIKAS SECONDARY SCHOOL in the neighbourhood to introduce this Chinese Festival to the lovely students in the school.
Teachers from Confucius Institute explained to the students why Chinese people eat Zongzi(glutinous rice wrapped in reed leaves) and why we have dragon boat race on May 5th according to the lunar calendar, which aroused the students' interests and curiosity in Chinese Culture and Festivals. They hope to have more chances to learn Chinese Festivals and traditions.
After the starting of the series of Cultural activities by Confucius Institute, 2 teachers from Confucius Institute have established good relationship with 3 schools. By these cultural activities, Confucius Institute doesn't only promote culture but also sets up a good image, which helps the citizens to know more about China.