-->>CI at KU Held Ceremony of Course Completion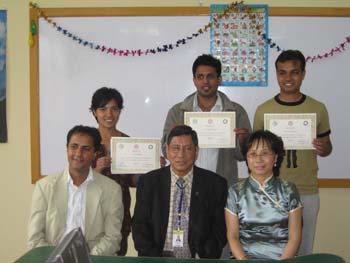 (CI at KU, September 28th) CI at KU held the ceremony of Course Completion on September 28th. The ceremony was held in the office of CI at KU at the presence of Bhadra Man Tuladhar, Registr and Dean of School of Art; Sagar Raj Sharma, program in charge; three Chinese teachers from CI, and the students.

CI at KU is the first Confucius Institute in Nepal, and simultaneously, the first one established at abroad, with its tablet unveiled by a common University from Hebei Province on the basis of overseas cooperation. On June 15th, He Yi, an associate professor from Hebei University of Economics and Business, and the first Chinese teacher selected and sent by Office of Chinese Language Council International, started her Chinese course to students in the First Chinese Class.
After 3-month studying, 9 students completed their study, 4 of whom went to proceed their study in well-known universities in China on September 2nd, since they passed the HSK and got scholarships; the other 5 witnessed the ceremony of course completion on September 28th. Among these students are reporters, writers, MBA and undergraduates. With 3-month Chinese learning, they have mastered Chinese Pinyin, more than 340 Chinese Characters, phrases, simple dialogues, and knowledge of Chinese Geography and Culture, which have fostered their knowledge and feeling towards China and her peoples as well.

The ceremony was simple but cordial, Sagar Raj Sharma, Progra In-charge hosted the ceremony, Bhadra Man Tuladhar, the Registrar and Dear of School of Art granted the certificates to the students and delivered a passionate address. He mentioned the rapid development of economy and society in China, emphasized importance of mastering Chinese in the students¡¯ future career, acknowledged the teachers, and encouraged the students to work hard. The students in turn expressed their interest in Chinese learning and hoped to continue their study at a higher level. Their happy mood was shown on their faces, while they took pictures with teachers and leaders, holding their certificates in hand.