Teachers from CIKU attended Spring Festival held by Arniko Association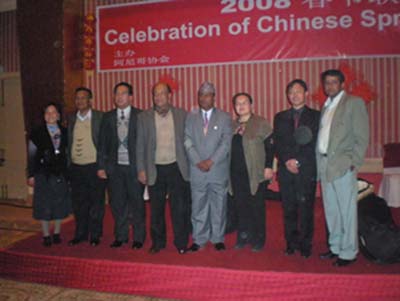 (CI at KU, January 31, 2008) Arniko Association in Nepal held a party to welcome Spring Festival on January 31, 2008. Chinese Teachers and some students from Confucius Institute at Kathmandu University participated in the party and played cultural programs.
Ariniko Associatin holds similar activities to celebrate this traditional Chinese Festival. The association is name after a famous Nepalese Architect and consists of elites from Nepal. They have been pursuing in activities concerning Sino-Nepal friendship and communication, and they contrite to the establishment and development of Confucius Institute at Kathmandu University, consequently, the association has a great prestige.
At the party, Chinese teachers sang together with members of the association the song: My Heart Belongs to China, expressing their incomparable love for China; the students from Confucius Institute sang a familiar and popular song Girls from Daban Town. Chairman of Arniko Association, Dr. Harish read passionately the famous poem by Mao Zedong: Qinyunchun Snow, the audience applauded heatedly.
When the party came to an end, Chinese Ambassador in Nepal, His Excellency, Zheng Xianglin took a picture together with teachers and students from Confucius Institute and encourage them to work harder to develop Confucius Institute at Kathmandu University into a first class base of promoting Chinese language and culture. VIPs at present inquire about Confucius Institute one after another, and what is more encouraging, more young people showed their great interest in Chinese learning and leaders of other associations and Chamber of Commerce showed their concern of Confucius Institute at Kathmandu University.