Confucius Institute Celebrated the first Anniversary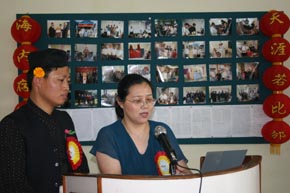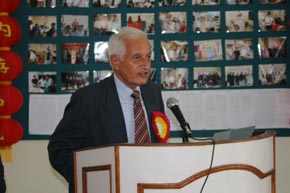 (CIKU, June 13th, 2007) Chinese Teachers from Confucius Institute held the first Anniversary Celebration at the Conference Hall with the presence of 100 persons. Mrs. Chen Yuli, Director of Cultrual Division from Chinese Embassy, President of Chinese Information Center,Mr. Dipak Sarkar, V.C, Dr. Suresh Raj Sharma,Registrar, Dr. Bhadra Man Tuladhar, Dean of School of Management, Prof. Subash K.C, Dean of School of Arts, Dr. Mahesh Bankota, Volunteer Chinese teachers, and pupils from the community participated in the event. The event started with the Anthems of the two nations, the whole hall was full of the atomsphere of patriotics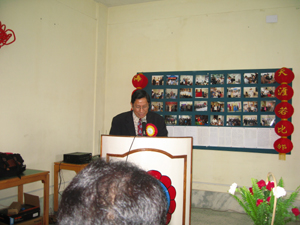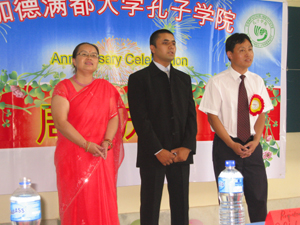 Chinese Ambassador, His Excellency, Mr. Zheng Xianglin was coming to the ceremony, but it was a pity that he could not get through because the strike blocked the passage. Mrs. Chen read the Congration Speech on behalf of the ambassador. In his speech, he encouraged the teachers to work even harder to develop Confucius Institute into a best base for promotion of Chinese Culture and Language, while the students to study harder to contribute to the promotion of the friendly relationship between the two nations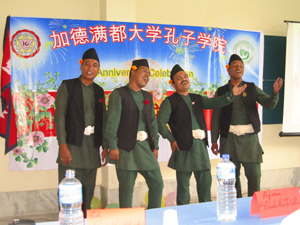 Vice Chancellor, Dr. Suresh Raj Sharma looked hopefully into the future with his blueprint for Confucius Institute. He said with the interest, enthusiasm and desire, we can realize our dream. While Registrar, Dr. Bhadra Man Tuladhar expressed his gratitude to all those who helped Confucius Institute in the past year.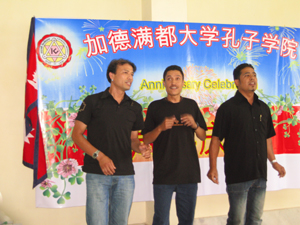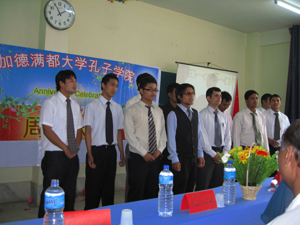 Chinese Director, Mr.Shang Liwei reported in brief the work done in the past year and he expressed that teachers will never forget about their tasks on their shoulders and they will work even harder in the new year and they will not let down the great expectations from the Nation.
Then teachers and students expressed their happiness in lovely songs, the traditional Chinese Songs like: May We Live Long Enough, Girls from Ali Mountain have a different feature in the Nepali students' voice, their singing shows their interest, enthusiasm and even their achievenments in Chinese Learning. In the end, all guests sang in chorus: True Heroes, which sent our love to the Earthquake Victims in China.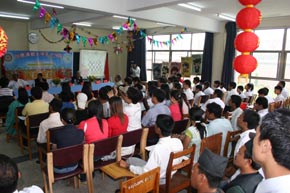 Looking back to the year passed, we have experienced the hardship, and the happiness at the same time, Confucius Institute is developing with our sweats, tears and laughters. In the past year, we didn't only teach students on campus, but also those who are interested in Chinese, and those who need help concerning business with Chinese People. We make use of every opportunity to promote Chinese Culture and Language, especially introduce the preparation of Olympic Games to people around us. We actively participated in activities held by K.U., Accociation of Arniko, and Nepal China Executives Council.
With our efforts in the past year, Confucius Institute is developing in the right track. What we have done is worthwhile.