Chinese Ambassador's Class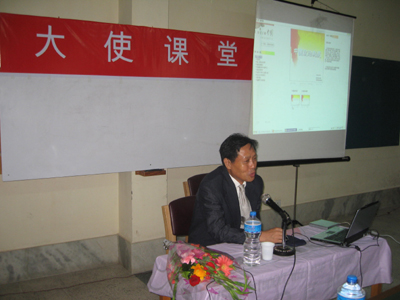 (CI at KU, July 18th, 2008) Chinese Ambassador, His Excellency, Mr. Zheng Xianglin gave a vivid lecture on China's Political System on July 18th, which happened to be Teachers' Day in Nepal. Ambassador Teacher's lecture glorified the classes. All those present were very excited, because this is by far the first lecture given by Ambassador to the Chinese learners.
More than 80 persons enjoyed the lecture. Those present include Dr. Suresh Raj Sharma, Vice Chancellor of K.U., Mr. Anoop Ranjan Bhattarai, President of Nepal-China Executives Council, Volunteer Chinese Teachers and students from Confucius Institute and School of Management and School of Arts of K.U. Miss Qiao Jingyi from Bishwa Bhasha campus, T.U., a Chinese teacher who has always been supporting Confucius Institute also attended the class and functioned as a photographer.
His Excellency, Mr. Zheng Xianglin first looked around the picture show. He pointed it out that the Picture Show is an easy but vivid and straight way to introduce Chinese culture. Soon afterwards, the ambassador gave an overall introduction of China's systems namely, political and military systems, judicial and administrative systems, and the composition and funtion of China's government, and etc., which aroused the audience's great interest. The ambassador's amiable smile made all those present feel at home and his straightaway explanation helped them to know more about China. The participants were greatly benefited from the ambassador's lecture, which enhanced their love for China and China's culture.
Having finished the lecture, His Excellency had an interactive program with the audience. The students were excited and expressed their gratitude for the ambassador's presence and especially the good will for Beijing Olympic in simple but touching words: Wish Beijing Olympic a Full Success.
Afterwards, Ambassador Zheng Xianglin had a friendly talk with teachers and students from Confucius Institute. He sang highly of the achievenments that CI have got in the previous year and encouraged the students to master Chinese to contribute to the improvement of the bilateral relationship between the two nations.