53rd Anniversary of Establishment of Diplomatic Relationship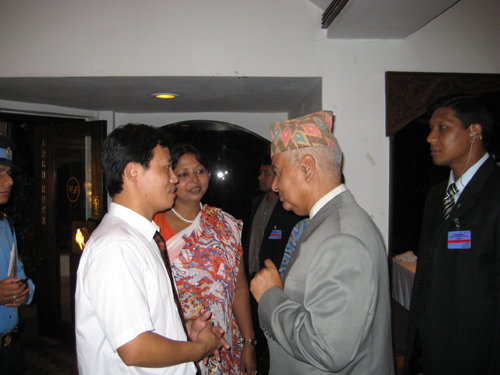 (CI at KU, August 1st) Five organizations, namely, Arniko Association, World Cultural Net, Association of Youth Friendship and etc jointly held a cocktail party in Annapurna Hotel to celebrate the 53rd anniversary of establishment of diplomatic relationship with China. More than 250 persons including His Excellency, Chinese Ambassador to Nepal, Mr. Zheng Xianglin, the newly Elected Vice President, Mr. Parmanand Jha attended the celebration. Invited by Arniko Association, two teachers from Confucius Institute at Kathmandu University attended the party.
At the party, participants had a very friendly and cordial exchange of their favorable attitudes towards the significance of the consistent good relationships between two nations. Owing to the party, Mr.Shang Liwei, Chinese Director of Confucius Institute at Kathmandu University had the precious chance to meet the Vice President and introduced Confucius Institute to the Vice President. He expressed his great honor to offer some help in Chinese language in such fields as culture, history, geography, and most important of all in business if possible.